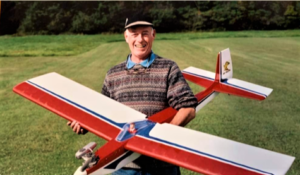 George B. Roberton, November 25, 1932 – September 12, 2020, passed away peacefully in his 88th year after a brief stay at Valleyfield Hospital due to complications from cancer. Son of John Gordon Roberton and Charlotte Poor Roberton, adored husband of 63 years to Joan Clark Manley Roberton, his family came first and foremost in his life. Father to Michael (Reida), Bill (Carolynn) and Jennifer. Proud grandfather of 11 grandchildren: Gabrielle, Genevieve, Kyle, Kevin, Liam, Stuart, Amanda, Christopher, Tiffany, Ryan and Natasha and two great grandchildren: Emma and Elliot. He was pre-deceased by his brothers John and Jamie and sister Barbara.
George had a deep love for his family and spent his life surrounded by his children, grandchildren and recently great-grandchildren. He played a central role in our lives with his generosity, kindness, and passion for bringing people together. A cherished memory for all will be Christmases spent at the house in Hudson tobogganing late into the night, sleigh rides and dinners spent talking and laughing well into the evening around the dining room table.
He had a long and fulfilling career as an advertising executive at Cockfield Brown Ad Agency and RBC and was responsible for many innovations in the industry. He loved his community of Hudson where he and Joan lived in the same home since 1965. They joined Hudson Yacht Club where they volunteered, raced and cruised for over 55 years. Always on the water, they sailed in every Labour Day Regatta from 1965 to 2017 winning countless trophies, plaques and flags on their C&C 31 Corvette Fiona, with Joan at the helm and George trimming the sails.
By his family and those who met him, he will be remembered for his ability to fix anything and quickly make people feel they had met a friend for life. George was the epitome of a "MacGyver". There was nothing a roll of duct tape or can of WD40 couldn't fix. His answer to how did you fix that? Was often, "I tried three or four things and one of them worked."
George loved people. He loved meeting them and learning about their lives. He worked both as a professional photographer for the Banff Springs Hotel in his youth and as the official family photographer later in life. A believer in "Six Degrees of Separation," he possessed an uncanny ability to establish common ground with people he met. Many who met him felt that within a half hour, they had a friend for life.
Beyond Hudson, he and Joan chartered sailboats in Greece and the Virgin Islands with friends from HYC. In winter months, they could often be spotted on the cross-country ski trails around Hudson, with family, friends and dogs in tow. In earlier years, George organized chartered ski trips to Switzerland and Austria. Their love of travelling continued until their trip to Paris in 2009.
Always fascinated by planes and boats, in retirement George became deeply involved and enjoyed countless hours with the members of the local remote control (RC) flying club and raced remote control soling sailboats at HYC, gladly taking on any tasks that needed to be done at both clubs. His generosity of spirit, kind and giving nature, deep curiosity about life and the people he met along the way will forever be missed by his family, friends and the community of Hudson.
In lieu of flowers, donations may be made to NOVA Hudson www.novahudson.com and the Canadian Cancer Society www.cancer.ca . A celebration of George's remarkable life will be held when it is safe to gather. In the meantime, please share your favourite memories, stories, and photos of George.