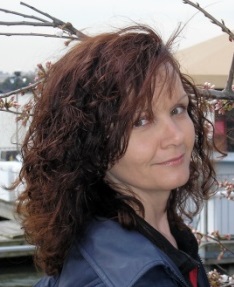 Lynne Marie Rennie (and sometimes Balzer)
December 13, 1970 – February 19, 2023
Lynne was born in Brandon, Manitoba, to John "Jack" and Lucille Rennie (who have preceded her passing) and was a little sister to Gerald "Gerry" and Claudette. Her family settled in Ponteix, Saskatchewan where Lynne attended school and was active in drama, dance and music.
When Gerry married Gisele, Lynne gained a sister in-law and became an aunt to Doug, Sheryl and Sandi. When Claudette married Mark Coppicus she became an aunt to Brandon and Reagan. As the nieces and nephews found their partners, she became an aunt to Jenn, Jarred (Hodgson), Brett (Marshall), Caley and Liz, and was so proud of being a great auntie. She had an extended family full of loving aunts, uncles and cousins who all had an impact on who she was.
Upon graduation from Ponteix High School, Lynne relocated to Lethbridge, Alberta where she attended the University of Lethbridge in the Liberal Arts Program. Not finding satisfaction in formal education, she was drawn to Cranbrook, BC where she had close ties to family who lived there especially her Uncle Wilf and Auntie Carol who were influential on her values, beliefs and ethics.
In Cranbrook she met and was briefly married to Glenn Franz, who she relocated with to Castlegar, BC where she joined AirBC as a Customer Service Agent.
She then moved on her own to Vancouver, BC where we met at a work event on August 21st, 1997 and I fell for her instantly. She was beautiful, intelligent, funny, kind and loving; she was my best friend for 25 years and wife of 24 years. I couldn't have been luckier to have her in my life.
We were married in Disney World on September 21, 1998 as Disney held a special place in both our hearts. We saw many other places together. Cherry blossoms in Washington DC, Times Square NYC, Vienna, Berlin, London, Paris, Zurich, Salzburg and Innsbruck -just to name a few.
As we relocated to places like Hartford, Connecticut and Montreal, Quebec she was always capable of establishing a new home. She was especially fond of the house we built in Hudson, Quebec and loved spending time in our garden with the nature that surrounded her. She was a talented chef, a gifted baker and had no fear facing the challenge of any recipe. One never went hungry with Lynne.
Lynne made many lifelong friends but, in the more recent years, she was very close with Alexandria, Jennifer "Jay" and Danika who provided incredible caring support for her. She also enjoyed spending time "solving the World's problems" with her cousin Pam and dear friend Linda. She also enjoyed her written correspondence with her Auntie Faye. All these moments and visits meant the world to her.
Lynne loved animals, and they loved her back, especially her dog Spunky, our cat Charcoal and "the love of her life," our rabbit, Hungry. She was a friend to the outdoor creatures too as there was always bird food in the feeders and peanuts for the chipmunks including her cherished little Wilbur.
Lynne was extremely organized, very structured and established high standards in the office which made her a perfect Executive Assistant, particularly at A&W Beverages and Bombardier Business Aircraft.
She found comfort in spirituality and was an active member in Center Congregational Church of Manchester, Connecticut as well as Wyman United Church of Hudson, Quebec. She was always able to offer spiritual guidance to anyone who asked her to be their compass.
On top of everything, she had inner strength and she was very, very brave. She died peacefully, holding my hand, in our home, after the challenges of an extended illness. Her final resting place will be in Cranbrook, BC but there will be a "garden party" held in her memory in the early summer at our home in Hudson, Quebec (attendance will also be available via Zoom Meetings).
She will be missed by her family, her friends and of course very much by me. She was simply wonderful and made life beautiful.
Although Lynne loved flowers, she would prefer that donations to be made in lieu of to one of the following charities as the animals they help need more support than our family needs flowers:
Rabbit Rescue Incorporated
101 Holiday Inn Drive
PO Box 29143 Hespeler PO
Cambridge, Ontario, N3C 0E6
E-mail: haviva@rabbitrescue.ca
www.rabbitrescue.ca/donate
Gerdy's Rescues & Adoptions
P.O. Box 21
Postal Station Victoria
Montreal, Quebec, H3Z 2V4
E-mail: info@gerdysrescue.org
A Horse Tail Rescue
P.O. Box 176 Hudson,
Hudson, Quebec, J0P 1H0
https://www.canadahelps.org/en/dn/m/40360?v2=true