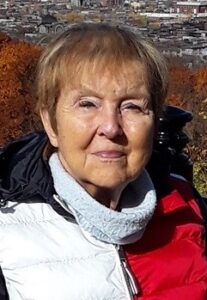 On Saturday April 8, 2023, at the age of seventy-seven, Monique Pouliot from Vaudreuil-Dorion passed away. She leaves to mourn her beloved husband Keith O'Reilly, her two children Patrick (Annie) and Kathleen (Jason), her grandson Samuel, her sisters Lise (André) and Denise (the late Gérard). She is also survived by her brothers-in-law, sisters-in-law, nieces and nephews, as well as all of her other relatives and friends.
The family will receive condolences, on Saturday, April 22, 2023 from 12:00 PM to 4:00 PM, at F. Aubry & Fils Inc. Funeral Home, 28 St-Michel, Vaudreuil-Dorion. Burial will take place at a later date.
In lieu of flowers, donations to the Canadian Kidney Foundation – Quebec Division would be greatly appreciated.