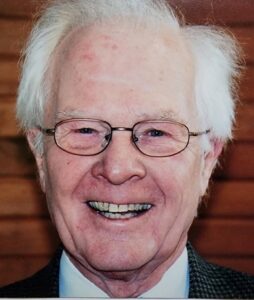 With heavy hearts we say goodbye to a beloved soul, Peter Mundie, who passed peacefully on August 2nd, 2023, two weeks short of his 93rd birthday, surrounded by his loving family.
Peter leaves behind a legacy of love and memories. He is survived by two of his children, Biz Mundie (spouse Deb Whamond) and James Mundie, as well as three grandchildren, Sarah, Samantha, and Jordan. He is predeceased by his wife and the mother of his children, Buff Mundie, his eldest daughter, Debra, and his second wife, Anne Nichols.
A man of kindness, community, and compassion, Peter touched the lives of many. As we grieve this loss, we remember the significant contributions he made to the Greenwood Centre for Living History, the Hudson Film Society, and the Wyman Memorial United Church. A music enthusiast, Peter was a dedicated member of the choir and spent countless hours practicing and perfecting his solos. We remember Peter, Dad, Papa with a camera always in hand.
May his memory be a source of comfort and strength to those who were fortunate enough to be touched by his presence. A celebration of his life will be held tbd.
In lieu of flowers, please consider a donation to NOVA, who cared for Peter over the past years. (http://www.novahudson.com/wp/en/supportus/)