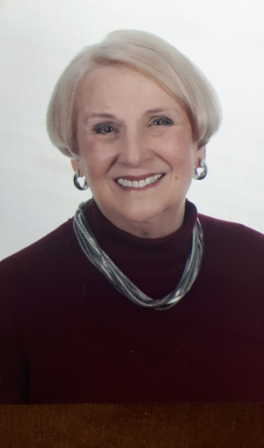 Sandra, Sandy to all who knew her, passed away at the palliative care residence in Hudson from the effects of a severe fall.
A resident of Hudson for almost 50 years, Sandy had an abiding spirit and inner strength that touched many in the community. She carried her bipolar disorder with grace and understanding, and wherever she went sunlight was sure to follow. She had a contagious enthusiasm and loved to share in life's joys. A trip to the grocery store would consume half a day as there were just so many people to engage.
Sandy is survived by her husband Bill, her daughter Kerry (Robin), her son Michael (Kirsty), her sister Judy Urtnowski (the late Dan), her brother Michael Butler (Dianne), her grandchildren Maddison Duggan, Morgan Rees, Dominic Young, Seren Rees and Hudson Young, her brother-in-law Cameron Young (Anne), and her nieces and nephews Caroline Glass, Jennifer Young, Andrew Butler and Philip Butler. Sandy took a special interest in the lives of her grandchildren, despite the fact that they lived a continent away.
For a period of eight years Sandy was a full-time and part-time elementary school teacher in New Richmond and Hudson. She cherished those years and she continued to hear from former students who still remembered — and were enriched by — her commitment and kindness.
Sandy loved to celebrate all special occasions, especially birthdays and Halloween. At Christmas she delighted in wearing those funny party hats that came with the Christmas crackers. She may be the only person ever to have their hair done especially for a driver's licence photo.
Her compassion for animals was legendary and she provided a home for any number of rescue dogs and assorted eccentric cats. They all ate well. Sandy was an accomplished equestrian and passed on her passion for horse riding to her two children. Many a summer was devoted to travelling to competitive horse shows where Kerry and Michael brought home their fair share of ribbons.
Sandy grew up in Westmount and Ste. Agathe, and was a life-long fan of the Montreal Canadiens. At age 16 she was the founder and president of the Tom Johnson fan club. In more recent years her favourite defenceman was P.K. Subban. She did the crossword puzzles every day and routinely answered the toughest questions on Jeopardy.
A great joy in her life was taking vacations to the Maine seashore where she spent the days either on the beach or in the water, and the evenings eating fresh lobster.
Her love of learning never left her, and Sandy said her greatest accomplishment was returning to school as an adult to pursue post-secondary education at John Abbott College (CEGEP). Never one to do things by half measures, at graduation she received the college-wide award for excellence in social science studies.
Wherever she went, whomever she befriended, Sandra Young left behind a legacy of fair mindedness, generosity, and love.
The family would like to thank the following: Hudson's First Responders, Hopital du Suroit Valleyfield, the Vaudreuil-Soulanges Palliative Care Residence, and Dr. Len Welik.
In lieu of flowers donations can be made in Sandy's name to The Vaudreuil-Soulanges Palliative Care Residence or to SPCA Ouest Vaudreuil-Dorion.
All those wishing to pay their respects are invited to join the family on Friday, February 22 from 2 p.m. to 4 p.m. or 7 p.m. to 9 p.m. at F. Aubry et Fils, 434 Main Road, Hudson. A celebration of Sandra's life will be held in June.