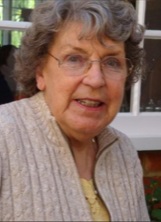 Winifred Williams Taylor, age ninety-four, passed away, on Monday, May 17th, 2021.
From her birth in Chester England, on October 19th, 1926 to her death, she gave to those around her with her love and care. Winifred was the 4th daughter of Hannah Newns and Peter Williams. She was a beloved sibling to her three sisters Dorothy, Myfanwy and Nancy and three brothers Harry, Peter and Tom.
On October 8th, 1949, she married the love of her life Geoffrey Taylor. Together they had two sons. They raised their family in Chester surrounded by family and friends. Winifred worked for many years behind the bar at the Chester GuildHall. She enjoyed travelling throughout Great Britain and Europe with her husband and sons, often bringing her nieces and nephews with them on their adventures.
In 1986, Winifred and Geoffrey immigrated to Montreal, Canada to live with their son and granddaughter. Life in Canada included just as many adventures and thankfully Winifred was a big fan of cold temperatures.
Tragically in 1997, Winifred lost her beloved husband. She remained in Canada but would often spend Christmas in England with her extended family.
Winifred will forever be remembered as an exceptional woman who deeply loved her family and friends. She loved to cook, had a special fondness for dogs and was known for never turning down a gin and tonic.
She is survived by her beloved sons Andrew (Madeline) and Mark (Heather), adored granddaughters Amy (Jon) and Hannah and cherished great-grandchildren Owen and Oliver. Winifred will be greatly missed by all those who called her Mum, Grandma, Auntie Win and Win.
Due to Covid-19 restrictions, a private service will be held in Hudson. A celebration of Winifred's life will be planned in the future.
In lieu of flowers, donations may be made to The Breakfast Club of Canada at https://www.imakeanonlinedonation.org/clubdejeuners/