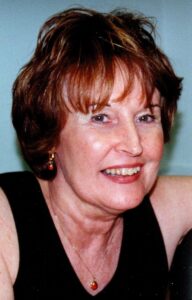 Elaine Frances Roberts, daughter of Albina Starnes (1914-2004) and Albert Roberts (1912-1977), passed away suddenly on July 6, 2020. She was 77 years old and will be fondly remembered and greatly missed by her family and many friends.
Elaine was born in Montreal in 1943 but grew up in Worcester, Massachusetts and spent many summers in Vermont along the shores of Lake Champlain. Following her family's return to Montreal in 1956, Elaine obtained degrees and specialist teaching certifications from St. Joseph's Teacher's College, the University of Montreal and McGill University, leading to a successful 44-year career as an educator in both Quebec and Ontario. She retired from teaching in 2008 and lived in Hudson, Quebec where she became an active member of the community. In addition to spending time with her cherished family and friends, Elaine most enjoyed her worldwide travels and attending live theater performances. An avid student of genealogy, she also spent years eagerly researching her extensive family history with roots in Montreal dating from the early 1800s, and traced her lineage to the 1700s in Yorkshire, England while continuing to uncover new information only days before her passing.
Elaine is survived by her three children, Karen (Mike), Andrew (Katy) and Bonnie, her five  grandchildren, Joshua, Tylor, Alexandra, Emelia and Henry.
On account of current public health restrictions, the funeral will be limited to immediate family members. A public memorial will be held at a later time.
In lieu of flowers, donations in Elaine's memory may be made to Centraide of Greater Montreal.