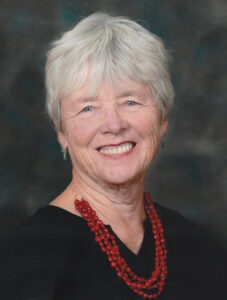 April 24 th, 1933 – October 13th, 2020
It is with great sadness but full hearts that we announce the passing of Barbara Martin (nee Fairfield).  Loving wife of David Martin, mother to Mavis (Alex), Carolyn, Jeff, Stephen (Cynthia) and Cynthia (Larry). Beloved Baba to Chelsea, Evan, Aly, Zack, Jaime, Paige, Megan, Nathan and Zadia. Great Baba to Sam, Juliet, Sofie, Elly and Arlo.
Barbara was predeceased by her brothers Lory, Mel and Cam and is survived by her sister Rhoda.
Born in Selkirk Manitoba she attended the University of Manitoba where she met and married David.  They raised five children and countless pets in Hudson, Quebec. She was the co-founder of Ptarmigan, a successful handweaving studio. Mom was an avid gardener and horseback rider and the family eventually moved to a farm on Fief road where she continued to run the business from a log cabin as well as running the farm and gardens. She was a keen sailor and kept elaborate logs of their many trips on Lake of Two Mountains, Thousand Islands and the Rideau Canal.
They enjoyed living in sunny Ajo, Arizona and Prescott, Ontario before moving back to Hudson in 2018. She loved playing tennis, golf, and bridge, and enjoyed bird watching, biking, sailing, skiing and playing the piano.  She was a well-loved member of the Sandra Lawn Harbor and Hudson Yacht Club. In Prescott she spent much time maintaining community gardens and volunteering for the St Lawrence Shakespeare festival. She loved swimming in the St Lawrence and camping in the Sonoran Desert. She was an active member of St John's Anglican in Prescott and St Mary's Anglican in Como.
To our dearest wife and Mother we will always remember your beauty, kindness, courage, humility, patience, tremendous curiosity and love of life. Your favorite times were always with family. You will be dearly missed by countless friends. We will cherish you in our hearts and memories forever.
We would like to thank Judy Tellier and the entire Nova team, Dr. Terret-Hans and the CLSC, as well as the caring staff at the Palliative care residence in Hudson. With their expert care and compassionate guidance, we were able to have Mom at home right up until the end.  In lieu of flowers donations to Nova Hudson www.novahudson.com and the Palliative Care Residence www.mspvs.org would be greatly appreciated.
A celebration of life will be held at a later date.