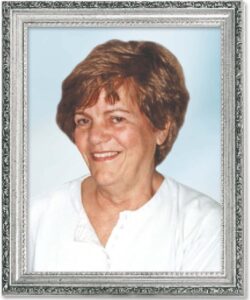 On Tuesday, December 10, 2019, at the age of ninety, Mrs. Philomène Parisi from Terrasse-Vaudreuil passed away. Predeceased by her husband James Hanlin, she leaves to mourn her two children Steve (Josée) and Chantal (Harold), her six grandchildren Sarah-Jade (Martin), Tristan, Justin, Nicolas, Marc-André and Arianne, her three sisters Dora (Raynald), Alice and Dolorès. She is also survived by her nieces and nephews, and her dear friend Betty. Besides her husband, she was also predeceased by her son Pierre (the late Sylvie).
The family will receive condolences, on Friday, December 20, 2019, from 7 p.m. to 9 p.m., and on Saturday, December 21, from 11:30 a.m. at F. Aubry & Fils Inc. Funeral Home, 28 St-Michel,  Vaudreuil-Dorion.
A funeral mass will be celebrated on Saturday, December 21, 2019 at 2 p.m., at Saint-Michel Church in Vaudreuil-Dorion.
In lieu of flowers, donations to the CHVS Foundation (for the CHSLD Laurent-Bergevin division) would be greatly appreciated.