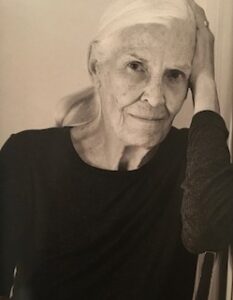 May 19, 1931 – February 5, 2021
It is with profound sadness that we announce the recent passing of our beloved mother Louise, surrounded by family, in her home in Hudson, Québec. She was predeceased by her loving husband of 60 years, Quintin John Finlay. Louise leaves behind her children, Russell, Christine (Edward), Kathleen and Yhanne (Perry) and her six grandsons, Matteo, Jack, Nicholas, Luca, Loïc and Matias.
Louise was born in Québec City but felt strongly connected to La Malbaie where she spent endless childhood summers. She was raised by her mother, Germaine, alongside her brother Peter and cousin, Pierre D'Auteuil. Louise was proud of her academic accomplishments having spent her childhood years studying at Les Ursulines and later graduating with a nursing degree from l'Université Laval. She found adventure in Obedjiwan eventually becoming head nurse, proudly claiming to have delivered over 300 healthy babies, with more than a few named after her. It was also there that she met her future husband, Quintin, a recent immigrant from Scotland.
After further stops in Moose Factory, Havre Saint-Pierre, Montréal, Winnipeg and Toronto, she wanted to return to her native Québec and found the perfect place to retire in Hudson. During those years, Louise and Quintin maintained and loved their beautiful home and stunning garden providing their children and grandchildren with lifelong memories of Hudson. Louise always kept busy; a master at bridge, she played in countless games and tournaments as well as privately with friends. A lover of books, an avid swimmer, she made many friends in the community volunteering well into her 80's. She was a 'Grande Dame' filled with kindness, intelligence, common sense, infinite patience and love. She will be remembered forever by all those who met her, both children and adults.
A private service will be held at a later date.