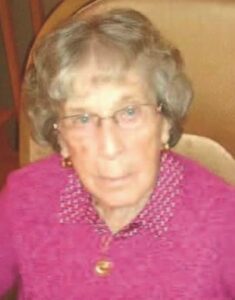 June 21, 1918 – October 29, 2019
It is with great sadness that we announce the passing of our beloved Grandma; Madeleine Gisele Campeau nee Monast after a long illness on Tuesday, October 29, 2019 at the age of 101 at her residence in Ste-Genevieve, Quebec.
She leaves behind four granddaughters; Natalie (Gilles St-Onge), Lise (Andy Formagie), Nancy (Marco Gonzalez) and Carolyn (Bill Beiersdorfer). Greatgrand-children; Caitlyn and Shayne Brown, Antonio and Carlos Gonzalez Campeau, Kyra and Jordan Masson and Jasmine St-Onge as well as many friends, nieces and nephews.
Madeleine was predeceased by her husband Emile who passed away January 3, 1986 and her only son Roch Marcel who died July 10, 2003.
A funeral service will be held from 1:30 PM to 3:00 PM on Saturday, December 7, 2019 at St-Thomas Aquinas Church, 413 Main Rd. in Hudson, QC
Special thanks to Linda Kmita for her special caregiving in these last few months and to Patrick O'Grady for his ongoing friendship throughout the years.
In lieu of flowers, please donate to the Canadian Cancer Society.