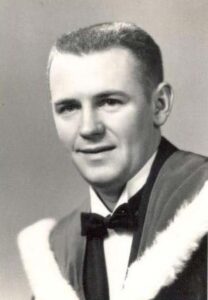 Vernon Elliott MacAllister, P. Eng. passed away suddenly of a heart attack on June 6th, 2021 at his home in Hudson, Quebec. He was 79.  He was born at Taxis River, NB on May 29th, 1942, the son of the Late Willard and Exa (MacLellan) MacAllister.
He graduated from UMRHS (1959) and UNB (1964).  He worked for engineering firms in Australia, Toronto and Montreal.  In his leisure time he was a pilot, a Scout leader, a world traveler, a guitar player, and a golfer.
He is survived by his son, Euan MacAllister, his daughter, Tanya MacAllister (Frank Reynolds), grandchildren, Fiona, Devon and Reagan MacAllister, and great grandchild, Kylar MacAllister.  He is also survived by his sister, Rita MacAllister (Winston Hunter) of Taxis River and nephews, nieces and cousins.
He was predeceased by his parents and his wife, Sheila (Logan) MacAllister (2020), and his grandparents Andrew and Winifred (Spencer) MacAllister and George and Florence (Calhoun) MacLellan.
Burial will take place at Saint Peter's Anglican Church graveyard in Boiestown, NB this summer.