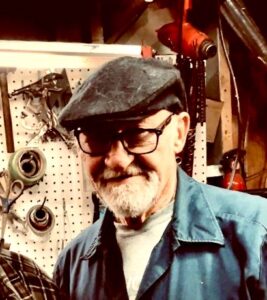 March 3, 1947 – February 8, 2020
Stricken by an unexpected heart attack, Stevie passed away on his way home after a family visit. Son of David Thom "Chappy" and Elsie Lane, his family came first and foremost. He was beloved Dad to Glen (Kerri) and Sara (Dylan) and devoted Grandpa to Raychel, Hanna, Ava, Zachary, Emma and Maya. He was in constant touch with his brother and neighbour, Sandy (Grace) and his nieces Margaret, Amy and Ashley, his aunt, Barbara Aird, and his many relatives and cousins in Hudson and across the country. He treasured his friendships, especially those fostered during his childhood in Como, Hudson and Hudson Heights.
He was a master of all trades, an entrepreneur, mechanic, photographer, inventor and story teller extraordinaire.
He loved being on the water; sailing was his passion. He was a constant presence in the harbour at Hudson Yacht Club and for many years, and to this day, he provided Tanzer boat parts to sailors all over North America.
His generosity, his kind heart, his love of cooking for and entertaining others; these are just a few of his qualities that will forever be missed by his family, his friends and his community.
We are all the better for seeing you, Stevie Thom.
A private Memorial Service will be held at St. Mary's Church in Como and family and friends are invited to St. James' Church Hall, 642 Main Road, Hudson, QC J0P 1H0 at 2:00 PM on Saturday, February 29, 2020.
In lieu of flowers, donations to his favourite charities who cared for members of his family and his friends: NOVA Hudson, (202-465 Main Road, Hudson, QC J0P 1H0 or http://www.novahudson.com/Donations.htm) or Vaudreuil Soulanges Palliative Care Residence Foundation (90 Como Gardens, Hudson, QC, J0P 1H0 or https://www.canadahelps.org/en/dn/15276) would be greatly appreciated.