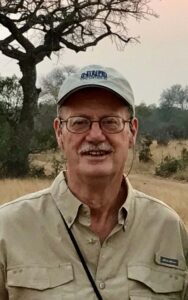 It is with great sadness that we announce the passing of Peter Robinson on Sunday, December 27th at the age of 72. Devoted and loving husband to Janice Robinson, also mourning the loss is his sister Jane (Jim), children Simon (Naomi) and Elizabeth (Liam), as well as grandchildren Charlotte, Jacob, Azalea, and Ocean.
Peter was the first person to volunteer to help anyone and was a definitely a gregarious individual.  Everyone has a memorable story of, "Peter taught me how to… or Peter showed me how to… or Peter told me…"
The social Como resident who people would remember as an active member of:
– The Hudson Yacht Club
– The Hudson Legion
– The Hardy Rocks Curling & Golf Gang
– Como and Whitlock Golf Clubs
– The Garden Club
– Hudson Historical Society
Some would perhaps also know him as the official "Hudson Town Council Critique".
He always had beautiful gardens and his "green thumb" skills were renowned. For years he made almost daily deliveries of fresh vegetables to the Hudson Palliative Care Center straight from his gardens.There's a long list of people in the community who have enjoyed his fresh tomatoes, corn, broccoli, beans, and long list of other home-grown veggies, or perhaps received one of his 8-foot sunflowers.
As a dog lover, never far away was always one of his Chocolate Labradors who went with him everywhere, most recently Mika & Ripley.
A ninja with a chainsaw and his log splitter, many can picture him driving down Main Road riding the Robinson farm tractor towing the manure spreader filled with a load of wood that he was surely on-route to deliver to someone.
Fortunate to have spent 40 happy years married to his wife Janice, they loved to travel together exploring the world and experiencing its different cultures.His feet touched 6 continents as he made a long list of friends along the way; many of which he and Janice visited repeatedly thereafter as well.  Although, he didn't love being anywhere more than the community of Como and Hudson.
There are no immediate plans for a service or memorial.  We look forward to a healthier future globally, when we can get together as a community and celebrate his life.
In the meantime, the Robinson extended family thanks everyone for their phone calls, messages of condolences, and warm wishes.
If anyone would like to make a donation in Peter's name, they can do so to the "Open Your Heart MUHC Cardiology Fund" http://www.cardiomuhc.ca/donate