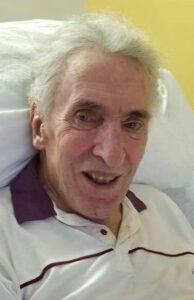 Wolf Dietrich Nebelung of Hudson QC, passed away on December 21, 2019 in Rigaud, QC after a two decade battle with Parkinson's disease.
Dieter was born on January 29, 1936 in Munich, Germany to Rudolph Nebelung and Sophia Nebelung (née Schoedler). He grew up in Oberaudorf, Germany, in the Bavarian Alps, where he helped his mother run the family photo store. In 1957, at the age of 21, he received his German Master of Photography degree, the youngest recipient at the time. In 1958, he emigrated to Canada and worked for five years at Rolfoto Studios, in Midland, Ontario, as a portrait and commercial photographer. He later moved to Montreal where he worked for Arnott & Rogers for 10 years, establishing himself as one of Canada's top commercial and illustrative photographers. In 1975, he joined the Royal Bank of Canada where he spent 17 years helping establish their visual communications department and later worked as a freelance photographer. In addition to his German Masters Degree, he also held a Master of Photographic Arts degrees with the Professional Photographers of Quebec and the Professional Photographers of Canada. His work received numerous awards, including being named Photographer of the Year (Quebec) four times. Dieter was long an avid outdoor sportsman, enjoying hiking, mountain climbing, cycling, tennis, Scouting and, in particular, downhill skiing. He became a Level III ski instructor with the Canadian Ski Instructor's Alliance and taught at Jay Peak, Vermont, for over 40 years. It is there that he met Helen Kennedy of Grenville, QC, who later became his wife on April 17, 1965 in Brownsburg, QC. He was known for his enjoyment of life and especially his dry sense of humour, never being one to pass up the chance to dress up, party or tell a good (and sometimes bad) pun.
He is survived by his wife Helen, and his son Mark, his daughter-in-law Chantal and two grandsons Eric and Patrick.
Family and friends are invited to the funeral service on February 1, 2020 at 11 am at the Wyman Memorial United Church at 513 Rue Main in Hudson QC.
The family requests that in lieu of flowers or other commemorations, that a donation instead be made to the Michael J. Fox Foundation to continue the search for a cure and help improve the quality of life of those suffering from Parkinson's (https://tribute.michaeljfox.org/tribute-page.php?id=1363).