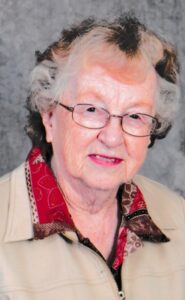 November 26th, 1926 – June 21st, 2020
It is with great sadness that we announce the passing of our matriarch, Peggy. It is time for a celebration of her life, but the times are not being accommodating.
Her life was one of great accomplishment and bravery. She navigated the family through the death of one of her sons, Donald in 1975. Her husband for 63 years Milton succumbed to the ravages of Alzheimer's in 2013. Amidst these travails, she remained a beacon of optimism.  She is survived by her three sons Robert (Lesley), David (Adele) and Ronald (Kathy) and her two grandchildren Euclid and Twiggy.
Peggy's life was closely tied to churches. She joined her father in the creation of St Henri Baptist Church but returned to Westmount Baptist Church where she was a soloist in the choir, secretary to the minister and an important cog in the church community. Following her move to Hudson, she graced its Wyman Church. She once again threw herself into church community life though they never got her to join the choir.
Our mom supported numerous charities. In lieu of flowers, donations to some of her favourite charities such as the Welcome Hall Mission, Pont Bridging, Alzheimer's Society, Wyman Church to name a few would be appreciated. Our mother's philosophy was to share what she had. Please donate with her in mind to the charity that you support.
In terms of a ceremony we are at the mercy of the present circumstances. A memorial will be organized; its time remains to be seen.