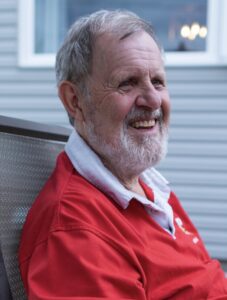 August 29, 1946 – June 27, 2021
If you learned French from a Welshman, it was probably this guy! Dave was born to Myfanwy and William and raised with younger brother Chris in Caernarfon, Wales.
Dave loved football (soccer) and excelled academically. He earned his BA from the University of Manchester and had many stories of his antics at Hulme Hall. He then earned his teaching certificate from Bangor University.  Seeking adventure, Dave taught briefly in France before being recruited for a one-year teaching contract in Montreal.  He fell in love with Canada, and a Canadian, and never looked back.
Dave and Nancy Anne Clare were married on June 29, 1974 and bought their first home in Ile Perrot.  Rue Rheaume was a hub for many young families and there, daughters Laura Rhiannon and Nicola Ceridwen arrived.  Dave was a devoted and proud father who encouraged his daughters to work hard and play harder.  He taught French at Dorval and Riverdale high schools.
A move to St. Lazare and retirement brought Dave peace and many basset hounds. Steve Pietroniro married Nicola, and Dave became "Grandy" with the arrival of Oscar Rhys and Gloria Myfanwy. Dave delighted in their many Cape Cod vacations and spoiling them with treats. He loved good music, British beer, etymology, seafood, cruises, and Manchester United.
He died suddenly at home and will be missed by family and friends.
A celebration of his life will take place later this summer.
In his memory, please consider making a donation to the MS Society of Canada.
We sincerely hope there are no grammatical errors in his obituary because he would not be best pleased. Byddwch am byth yn ein calonnau a'n meddyliau, ni fyddwn byth yn eich anghofio.