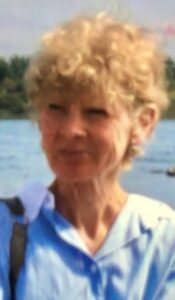 On Sunday, July 12, 2020, at the age of seventy-nine, Mrs. Mona Beatrice Hodgson from Ste-Marthe passed away. She is the daughter of the late Isabelle Burbridge and late John Robert Hodgson. She leaves to mourn her beloved husband Donald Gaudreau, her children Mark, Daniel (Katya), her stepsons Michel (Sylvie), late Serge, and Stéphane (Astrid), her grandchildren, her great grandchildren, her brother late Kent (Aileen) and Brady (Lyne), nieces and nephews.
A private ceremony will take place at a later date.
We would like to give a special thanks to Hudson Medical Center.
Should friends desire, memorial contributions may be made to Hudson's Le Pont Bridging Food Bank, Nova Hudson or to a charity of your choice.