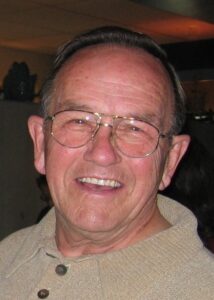 October 1st , 1933 – October 1st , 2021
C'est avec une profonde tristesse que nous annonçons le décès de Charles Robert Corriveau survenu le 1er octobre 2021.
Adored by his wife Paule, children Louise (Ross), Claude (Chantal),  Anne (Pierre) and Robert (Kathy), his grandchildren Melissa, Stephanie , Steven, Eliott, Maxim, Patrick, Claire-Anne, Tanya, Philippe, Julie and his great grandchildren Daniel, Adrian and Steven. He is predeceased by his brothers Eric, Eugene, Edgar and Raymond and he leaves behind his two siblings Blanche and Omer.
Robert was born in Brooklyn NY, the 4th child of Cyprien Corriveau and Corrine Imhoff.   He graduated from St-Francis Xavier University and began his career in Geology in 1957.
He was an esteemed science teacher at Vaudreuil Catholic High School from 1965 to 1992 and counsellor for the town of Vaudreuil from 1985 to 1989.  Robert worked well into his 80's with his "Bob's Tree Service" started more than 40 years ago.
Loving husband, father, uncle and friend to many, he lived his life with a strong moral compass, a positive attitude and a profound respect and love of nature. Bob – "Mr. C." was an avid reader with a love of travel, history and a good game of Scrabble.  We will miss his big smile, his big laugh and even bigger hugs.
A celebration of life will be held at a later date. In lieu of flowers, donations to Nova Hudson would be greatly appreciated.  www.novahudson.com