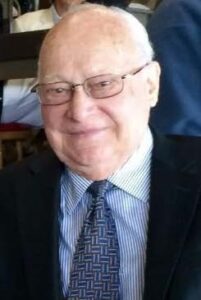 July 30, 1930 – August 7, 2021
Emile Allain passed away quietly at his home in St Lazare on August 7, 2021.  A horseman and a true gentleman, he was born in Brittany, France and came to Canada to pursue his passion for horses and horse racing.  He met his wife Margaret and together they built a thriving business in St. Lazare, Quebec.
He became one of Canada's most respected trainers basing his operation at Woodbine Racetrack in Toronto, Ontario.  He trained many stakes winners including Knight's Turn and Kamar.  He played a significant role as a mentor such that many of his assistants went on to form their own successful careers. Retiring in 2004, to his beloved farm in St Lazare, he was finally able to spend all of his time happily tending to its upkeep and enjoying the camaraderie of his longtime friends. He continued to follow thoroughbred racing around the world via the internet as well as occasionally attending races and sales in Toronto and Saratoga.
He leaves behind his daughter Josée Riviere of Aiken, South Carolina, his brother Paul Allain of Luxembourg, and Olivette Allain, sister-in-law of St Laurent, Manitoba, as well as many nieces and nephews.  Predeceased by his wife Margaret, his brother Albert and his sister Pauline.
Special thanks to Dr. Annik Terret-Hans and her team at the CLSC Vaudreuil for their help and compassion.
Per Emile's wishes, there will be no funeral service. He had requested in lieu of flowers to please consider donating to Nova Hudson or the LongRun Thoroughbred Retirement Society. www.longrunretirement.com